Skipper Adamson (played by Collin Cole in As The Bell Rings). Skipper is Daniel Neilson and Toejam's best friend. He is the funny and slighty crazy one of the gang. He often comes up with schemes to help face challenges. He always says that he always has "A Plan", which often backfires and causes trouble. Skipper really likes dressing up and always spends all his money on costumes.
Character Story
[
]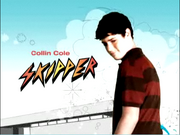 Skipper Adamson is one of Danny Neilson's weird best friends. He is also best friends with Toejam. He likes to call himself the "Funny Kid With The Curly Hair" (As seen in his rap). He has a huge crush on the most popular girl in school, Tiffany Blake, and when he gets nervous he starts saying "Uh Uh Uh" until he gets a chance to run away. In one episode he pretends to be his fake uncle, Uncle Kipper, who is a janitor. At the end it turns out that Uncle Kipper is real and that he is a janitor. In another episode Skipper starts to like Lexi and when Toejam told Tiffany she chained her self to Skippers locker while Skipper chains himself to Lexi's locker. But in an ironic twist they are both told by Toejam "You do realize that's not her/his locker?", while they are chained two lockers away from each other. Then Toejam says "I'll get the jaws of life".
Romantic Life
[
]
Tiffany Blake
[
]
From the first season, it is made clear that Skipper has a crush on Tiffany Blake, but Tiffany does not know it.
Lexi Adams
[
]
In Skipper's Away, he grows a crush on Lexi.
Trivia
[
]
Skipper claims that he had kissed a girl named Maryanne in first grade, who turns out to be a mannequin.
Coinsidently, Skipper shares a similar last name with Charlotte and Lexi, with their last name being "Adams" and Skippers' being "Adamson".
It is unkown if Skipper is actually his name or just a nickname, in this case Skipper is only character who's real name is unkown.
Skipper has an uncle called Kipper, who works in the school as a janitor.