Quelli dell'intervallo


Quelli dell'intervallo titolo della carta
Country of origin
Italia
No. of seasons
7
No. of episodes
312
Production
Running time
Circa 5-7 minuti
Broadcast
Original channel
Disney Channel Italia
Original run
2004 – 2008
External links
Official website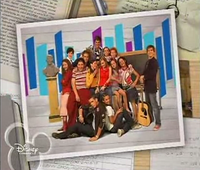 Quelli dell'intervallo (Inglese: come la campana) è la versione italiana della As the Bell Rings. È stato trasmesso da Disney Channel Italia. La mostra ha avuto anche uno spin-off Fiore e Tinelli con Tinelli e la vicina di casa Fiore come protagonisti.
Lo spettacolo ha preso piede anche in altri paesi, come ad esempio in Spagna, Germania, Francia, Regno Unito, Russia, Stati Uniti, Australia, India, ed in alcune parti dell'Asia.
Personaggi
[
]
Principali
[
]
Personale scolastico
[
]
Sigle di apertura
[
]
Stagione da 1 a 3
[
]
Se c'incontri sono guai
Bella lì, non c'è problema
(No), tu stai tranquil, si sistema
Bella zio, come ti butta?
Non sei al primo, ma alla frutta
Siamo quelli, siamo Quelli dell'intervallo
Siamo quelli che è uno sballo
Siamo Quelli dell'intervallo.
Stagione da 4 a 7
[
]
Bella storia questa scuola,
Ti diverti e il tempo vola!
Questa classe è un vero sballo,
Stai con noi per tutto l'anno !!
Se la prof. mi sgama in scienze,
è un disastro non so niente!
Dalla brace alla padella,
Spero nella campanella!
Siamo quelli...
Siamo Quelli dell'intervallo
Siamo quelli che uno sballo
Siamo Quelli dell'intervaaallo!
Stagione 7: Quelli dell'intervallo - In Vacanza
[
]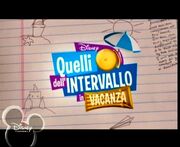 Siamo ganzi te lo dico
Bella lì, non c'è problema
Tu stai tranquil, si sistema
Bella zio, come ti butta?
Non sei al primo, ma alla frutta
Siamo quelli, siamo Quelli dell'Intervallo
Siamo quelli che è uno sballo
Siamo Quelli dell'Intervallo
In Verbindung stehende Artikel
[
]
English
[
]
Click here to view this page in English